The Britax Grow With You ClickTight Harness-2-Booster Seat seat grows with your child from toddler to big kid. Feel confident with your child's comfort and safety with its patented ClickTight installation. 
Safe to machine wash and dry, the removable car seat cover stays looking like new, mile after mile. That means quick, easy cleanup so you can keep moving. The fabrics are naturally flame-retardant, which means there's no need for added FR chemicals.
Quickly adjust the 9-position harness and headrest using just one hand for the proper fit as your child grows. Once they're ready to use the seat belt, the 5-point harness tucks away, transitioning to a belt-positioning booster. Color-coded guides help you route the seat belt through the right paths, and you can choose from plenty of fun colors to match your child's unique personality.
With the Grow With You ClickTight Harness-2-Booster seat, your child will be proud of their "big kid" status!
Compatibility + Accessories
CPS Techs

What is a CPS tech?

A CPS tech is a Certified Passenger Safety Technician. Our Cubby Moms who have certified as CPS techs are specially trained on how to properly install car seats and booster seats, ensuring they know everything there is to know about keeping children safe in vehicles.

Through required continuing education courses and hours of personal research and team training, our CPS techs are able to remain up to date on the latest technical information regarding child safety.

How does a CPS tech get certified?

In order to become certified, each prospective tech must attend The National Child Passenger Safety Certification Training Program. After intensive classroom instruction, they must pass a variety of written tests, demonstrate their knowledge through hands-on skills assessments, and perform safety checks at a check-up event before becoming certified. They learn the ins and outs of car seat installation possibilities, installing car seats in different vehicles, harnessing methods, and more. The car seat and safety industry is constantly changing, so our CPS techs here at The Baby Cubby are an invaluable resource for parents purchasing a new car seat, or for ones who simply want someone to double check that their current car seat is properly installed.

How can I get in contact with a CPS tech?

You can

visit our store

during regular business hours to consult with a CPS tech. This is a service we provide all year round because we're passionate about helping parents and keeping kids safe! If you're not local, you are always welcome to contact The Baby Cubby via phone or chat to get the peace of mind our highly-trained techs can offer when it comes to child car safety. To contact our CPS techs, use the options listed below.

 

 

 

 
Car Seat Return and Shipping Policy

Car Seat Returns

Due to safety concerns, only unopened car seats can be returned. Safety is our top priority and we want you to keep your kiddos safe. If you have any questions, please reach out to [email protected]. 

Car Seat Shipping

Free Shipping applies to standard shipping orders over $95 within the continental U.S.A. Unfortunately, orders shipping to Alaska, Hawaii, Puerto Rico, or APO/FPO addresses do not qualify for free shipping.
Large furniture items that must ship as freight such as cribs, gliders and dressers have a separate furniture delivery fee.

Free 5-7 days shipping is available on every order over $95 (excluding taxes and shipping fees) in the continental U.S.A. If you are in need of expedited shipping, the cost will be dependent upon your area and how fast you are wanting it shipped to you. You can get a shipping quote in your cart at checkout.

Shipping Timeline

For standard shipping, FedEx and USPS have up to 5-7 business days to deliver your order. However, most items arrive within 3-5 business days.

To track your package, follow one of the links below:

United States Postal Service (USPS) Tracking: https://m.usps.com/m/TrackConfirmAction

FedEx Tracking: https://www.fedex.com/apps/fedextrack/?action=track
Best Price Guarantee

 

We understand that caring for a baby isn't cheap
and that baby gear and supplies quickly add up. If
you find a lower price on any item that we sell, we
will gladly match it.

The product must be the exact same color/style/size
and be in stock on competitor's website. Unfortunately,
we cannot price match auction-based websites. Some
brands and manufacturers are excluded from our price
match policy. Some items have a 1 per person price
match as well.

 

To obtain a price adjustment, please contact email

Customer Service at

[email protected]

 

A one-time price adjustment per item will be honored
when items are purchased at full retail price and the
merchandise (of the same style, color, and size) is
discounted within 14 days of the original purchase date.
Items purchased with a promo code or discount code are
not eligible for price adjustments.
Price adjustments are not provided during Black Friday or
Cyber Monday sales.
View full details
Customer Reviews
Write a Review
Ask a Question
09/22/2021
Anonymous

United States
Always Great
As always, appreciated Baby Cubby's price matching, free shipping and rewards program!
We're so glad we were able to help you get a booster seat! Please let us know if there is anything else we can do to help you out!
05/12/2021
Samantha G.

United States
Love the seat
I love this seat! Very clear directions in the manual, and overall easy to install. Unfortunately the seatback in my car slopes down toward the door, so the V tether on the back does not work and slips down one side. No big deal in my car, I just moved the seat into the 3rd row, but keep in mind the shape of your cars seats when looking at car seats. Easy to get the toddler in and out of, even being so far back. Still giving a 5 star review because the seat is awesome, you will not be disappointed if you purchase this.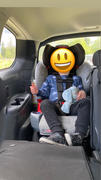 05/02/2021
Anonymous

United States
The Best!
I love this seat. We outgrew our boulevard... not officially... but the way my little's legs were hanging off the front made them hit the back of my seat all of the time. This car seat provides a much better angle for longer legs. Easy to install. I feel safe with my 4 year old in a 5-point harness... and I love that this set up will keep him in it and keep him safe for years to come.
We are so glad you love this seat! Thanks for sharing your experience with us!