Doona's infant car seat and stroller combo was designed to provide parents a safe and practical solution for their baby, both in and outside of the car. It is the world's first infant car seat and stroller in one, providing a complete and fully integrated travel system, and allowing you to move from car seat to stroller in seconds.
The latest collection makes a bold and on-trend statement with vivid colors, an updated all-black inner seat cover and a sleek charcoal aluminum frame. This collection answers the needs of fashion-conscious families.
The Doona Gold Limited/Seasonal Edition adds a touch of understated luxury to its timeless design. It features a gold splash canopy, exclusive gold accessories, and gold aluminum profiles throughout. With its unique, eye-catching silhouette, Gold makes a statement while blending seamlessly into the style of the contemporary parent.
The Doona Midnight Edition features a diamond shape seat cover, black anodized aluminum, and faux-leather touches throughout. This edition includes an exclusive complimentary Doona Midnight Essentials Bag and a luxurious black faux-leather Handlebar Cover.
Compatibility + Accessories
CPS Techs

What is a CPS tech?

A CPS tech is a Certified Passenger Safety Technician. Our Cubby Moms who have certified as CPS techs are specially trained on how to properly install car seats and booster seats, ensuring they know everything there is to know about keeping children safe in vehicles.

Through required continuing education courses and hours of personal research and team training, our CPS techs are able to remain up to date on the latest technical information regarding child safety.

How does a CPS tech get certified?

In order to become certified, each prospective tech must attend The National Child Passenger Safety Certification Training Program. After intensive classroom instruction, they must pass a variety of written tests, demonstrate their knowledge through hands-on skills assessments, and perform safety checks at a check-up event before becoming certified. They learn the ins and outs of car seat installation possibilities, installing car seats in different vehicles, harnessing methods, and more. The car seat and safety industry is constantly changing, so our CPS techs here at The Baby Cubby are an invaluable resource for parents purchasing a new car seat, or for ones who simply want someone to double check that their current car seat is properly installed.

How can I get in contact with a CPS tech?

You can

visit our store

during regular business hours to consult with a CPS tech. This is a service we provide all year round because we're passionate about helping parents and keeping kids safe! If you're not local, you are always welcome to contact The Baby Cubby via phone or chat to get the peace of mind our highly-trained techs can offer when it comes to child car safety. To contact our CPS techs, use the options listed below.

 

 

 

 
Car Seat Return and Shipping Policy

Car Seat Returns

Due to safety concerns, only unopened car seats can be returned. Safety is our top priority and we want you to keep your kiddos safe. If you have any questions, please reach out to [email protected]. 

Car Seat Shipping

Free Shipping applies to standard shipping orders over $95 within the continental U.S.A. Unfortunately, orders shipping to Alaska, Hawaii, Puerto Rico, or APO/FPO addresses do not qualify for free shipping.
Large furniture items that must ship as freight such as cribs, gliders and dressers have a separate furniture delivery fee.

Free 5-7 days shipping is available on every order over $95 (excluding taxes and shipping fees) in the continental U.S.A. If you are in need of expedited shipping, the cost will be dependent upon your area and how fast you are wanting it shipped to you. You can get a shipping quote in your cart at checkout.

Shipping Timeline

For standard shipping, FedEx and USPS have up to 5-7 business days to deliver your order. However, most items arrive within 3-5 business days.

To track your package, follow one of the links below:

United States Postal Service (USPS) Tracking: https://m.usps.com/m/TrackConfirmAction

FedEx Tracking: https://www.fedex.com/apps/fedextrack/?action=track
Best Price Guarantee

 

We understand that caring for a baby isn't cheap
and that baby gear and supplies quickly add up. If
you find a lower price on any item that we sell, we
will gladly match it.

The product must be the exact same color/style/size
and be in stock on competitor's website. Unfortunately,
we cannot price match auction-based websites. Some
brands and manufacturers are excluded from our price
match policy. Some items have a 1 per person price
match as well.

 

To obtain a price adjustment, please contact email

Customer Service at

[email protected]

 

A one-time price adjustment per item will be honored
when items are purchased at full retail price and the
merchandise (of the same style, color, and size) is
discounted within 14 days of the original purchase date.

Price Match Exceptions:

Items purchased with a promo code or discount code are
not eligible for price adjustments.
Price adjustments are not provided during Black Friday or
Cyber Monday sales.

The following brands are not eligible for price adjustments:

Creative Co-op and Jamie Kay
View full details
Customer Reviews
Write a Review
Ask a Question
Filter Reviews:
Doona
Baby Cubby
baby
stroller
shipping
customer service
car seat
&amp
newborn
service
09/19/2023
Anonymous

United States
Super Convenient, but heavy!
We absolutely love this system, it flawlessly transitions from car to strolling so our little one can conveniently stay buckled up when we're on the go. My only complaint is that when he's in the seat, it's too heavy for me to lift in and out of the car. My husband is the only one who can manage it, so I can't use this seat on my own when dad's not around. Which is definitely a bummer, but dad is usually with us so not too much of a problem. If I had gotten this when my son was a newborn, I think I could have managed it myself. He is almost 20 pounds now, in case this helps anyone make the decision.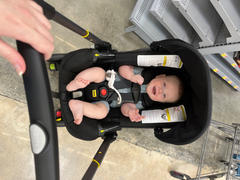 Thank you for the informative and honest review!
06/01/2023
Erin J.

United States
Game changer
The doona is well worth the price! It's so convenient to use and it might be heavier than a regular car seat but I never carry mine! My mom calls it the transformer!! It's a game changer for new moms! It's also very sturdy I like to walk a lot and it moves great!!
Thank you for the great review! We definitely love the Doona!